oo
Mouloud kacem nait belkacem auditorium, Elbez, SETIF
November 29, 2022 – November 30, 2022
U

niversité

F

erhat

A

BBAS

S

étif

1
جامعة فرحات عباس سطيف1
I

nstitut d'

O

ptique et

M

écanique de

P

récision
معهد البصريات و ميكانيك الدقة
Organize
I

nternational

C

onference

in

M

etrology and

I

ndustrial

C

ontrol
(ICMIC 2022

)
International Conference in Metrology and Industrial Control will be held on November 29-30th, 2022 at the mouloud kacem nait belkacem auditorium, Elbez campus. Ferhat Abbas Setif1 University , Algeria.
This conference will bring together academics and  industrials from all over the world.
The conference aims to provide an international forum for experts to promote, share, and discuss various issues and development in the field.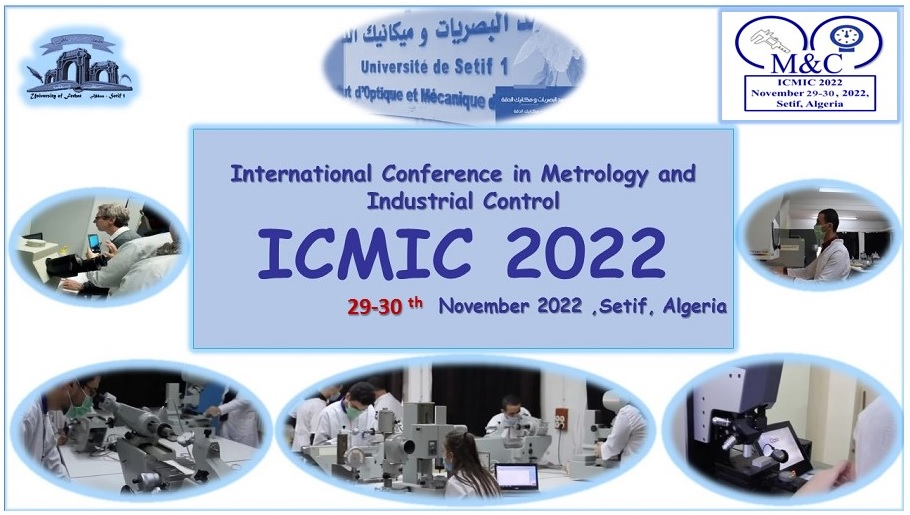 Papers

are invited on all topics related to

metrology and industrial control,

including:
T1. Standardization and quality evaluation
T2. Optical Metrology
T3. Nanotechnology measurements
T4. Acoustic and electronic metrology
T5. Recent measurement techniques in: mechanics, physics, chemistry, pharmacy, health, food industry, environment and energy
T6. Monitoring, diagnosis and prognosis techniques
T7. Industrial maintenance management
Papers submission
Extended abstracts written in English, French or Arabic, which describe new contributions to the conference topics, are solicited.
Each author is requested to submit an extended abstract (2 pages A4 max) online via the following link according to the template downloaded from the website: https://ocs.univ-setif.dz/docs/Instructions-ICMIC2022.docx
Language

English, French and Arabic are the official languages of the conference.
To download the Conference CALL OF PAPER -PDF FORMAT- please click here

Important Date
September 11th, 2022 : First call for paper ICMIC 2022
October 15th, 2022 : Final extended abstract Submission Deadline
November 10 th,2022 final extented abstract submission deadline
November 28-99 th, 2022 : November 29-30th, 2022 : Conference Days
To down load the conference ABSTRACT BOOK please click HERE
Announcements
IMPRTANT INFORMATION: Conference schedule

Dear participants and users

To down load the conference program please click here

To down load the conference ABSTRACT BOOK please click HERE


We thank you again for your interest in ICMIC 2022.


Cordially.

Posted: 2022-10-15